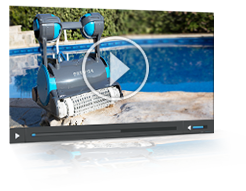 -
The Flagship of the Dolphin Pool Cleaners
It's the best Dolphin Pool cleaner ever made. And it's easy to see why the new Dolphin Premier is the answer to the changing demands of pool owners everywhere. With groundbreaking design and a level of efficiency never seen before, the future has already begun. Highly efficient, state-of-the-art DC motors and an ingenious Multi-Media filtration system deliver an exceptional user experience while reducing energy use up to 87%.

MultiMedia™. One Robot. Four Media Types.
Which media type do you prefer? For the first time ever, no matter which you choose, you won't be making a compromise. Now you can choose the right media for the job. Want to clean fine debris and algae that passes through other pool cleaners? Go micro-filter. Need to pick up a bushel of leaves? Go oversided debris bag. How many robotic pool cleaners offer Multi-media? Exactly one...only Dolphin Premier pool cleaners.

The underwater robotic cable swivel is one of the greatest engineering accomplishments in the pool cleaner industry. But you don't need to be an engineer to understand the benefits of tangle-free operation. Without a swivel, every cable will eventually become a tangled hassle. What other robotic pool cleaner company offers a swivel? Only Premier Dolphin pool cleaners.

SmartNav™ Robotic Pool Cleaner Scanning
When you unleash the Dolphin Premier pool cleaner into your pool, it doesn't just wonder aimlessly around like most pool cleaners. Smart-Nav software delivers highly optimized scanning and coverage for a new level of clean. Premier calculates the optimal pattern for faster cleaning and improved efficiency. With the ability to sense ladders and drains, Dolphin pool cleaners won't get hung up like ordinary cleaners. Microprocessor controlled Pool Scanning ensures complete efficient pool surface coverage

3,000 RPM Ultra Efficient DC Motors - Another Dolphin First
The principal is simple. 24 volt motors operate on nearly 90% less power than AC booster pumps. Running on just 180 watts, the hourly cost to operate a Premier Dolphin pool cleaner is only 5 cents per hour. But that's not the whole story. Dolphin pool cleaners clean quickly and thoroughly so they can run less. That's why you can set Premier to automatically run just when you need it - daily, 2x per week or 3x per week.

Browse More Features
Rubber tracks grip the wall of your pool in a way that wheels simply can't, delivering unmatched agility.
Premier thoroughly cleans and scrubs every square inch of the pool, including coves, walls, and the waterline.
Advanced PowerClean™ Brush
Spinning at high RPM, PowerClean brushes clean and scrub to remove even the most difficult algae and biofilm.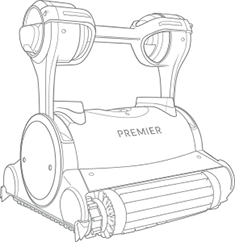 Maytronics engineers have done it again, designing a new line of Dolphin pool cleaners that do the improbable.
So what exactly makes the Dolphin Premier the most progressive pool cleaner in the world? It's rather simple. The Premier provides visionary mobility, inspiring design and a whole new focus on sustainability. The result is a technologically superior robotic pool cleaner. The absolute best warranty available and legendary Dolphin pool cleaner performance are standard. Learn more about the advanced features that represent the current state of pool cleaner technology.

Try the Dolphin Premier Pool Cleaner in your own pool for 30 days!